Once Was A Flawed Masterpiece
Recorded at Sound Techniques Studio. February - March 1970
Vocals Overdubbed:- April 1970 at Vanguard Studios, New York
Produced by Joe Boyd, Witchseason Productions Ltd.
Engineered by John Wood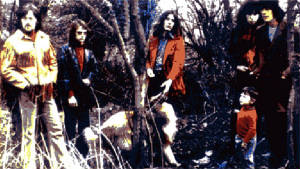 The writing team of Dave Swarbrick and Richard Thompson in its finest hour.Full House has always had a special place in the Fairport canon, as it is only one of two outings on vinyl for the classic 1970 Nicol/Mattacks/Pegg/ Swarbrick/Thompson line-up (the other being the Live at The Troubador album). However, there's always been the sense of the flawed masterpiece about it, mainly due to the last minute omission of the legendary Richard Thompson, Dave Swarbrick opus, 'Poor Will & The Jolly Hangman'. Now, thanks to the magic powers of CD remastering, Island have not only restored the missing track and the original running order, but added both sides of the neglected Dave Swarbrick, Richard Thompson 'Now Be Thankful' single, plus 'Bonny Bunch of Roses' - a sprawling Napoleonic folk opus that proves that Fairport Convention are truly masters of the genre.
We can't recommended this album highly enough. simply go out and buy it.
Richard Thompson, vocals, guitar;
Simon Nicol, vocals, electric, acoustic & bass guitars,
dulcimer. (watch out Steve Stills)
Dave Swarbrick
,
vocals, fiddle, viola, mandolin;
Dave Pegg
, vocals, bass guitar, mandolin;
Dave Mattacks
, drums, harmonium, bodhrán;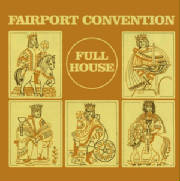 2003 CD reissue
Dirty Linen
Sir Patrick Spens
Flatback Caper
Poor Will and the Jolly Hangman
Flowers of the Forest
Now Be Thankful (mono)
Sir B. Mackenzie's Daughter's Lament for the 77th Mounted Lancers Retreat From The Straits of Loch Knombe on the occasion of the Announcement of her Marriage to The Laird of Kinleakie
Bonny Bunch of Roses
Now Be Thankful (new stereo mix)
Tracks 1, 2, 4, 9, 12 Dave Swarbrick, Richard Thompson
Track 3 trad. arr. Dave Swarbrick
Tracks 5, 6, 8, 10, 11 trad. arr. Fairport Concention
Track 7 Richard Thompson, Dave Swarbrick
Sloth
Thompson/Swarbrick


Island ILPS 9130 (LP, UK, July 1970)

side 1

Walk Awhile

Dirty Linen

Sloth

side 2

Sir Patrick Spens

Flatback Caper

Doctor of Physick

Flowers of the Forest

Tracks 1, 3, 6

Dave Swarbrick/Richard Thompson
Track 2 trad. arr. Dave Swarbrick
Tracks 4, 5, 7 trad. arr.

Fairport Convention

.


an article on the song from
Living Traditions Magazine,
the online edition
background information
on the 13th century
Scottish ballad
9th September 1513