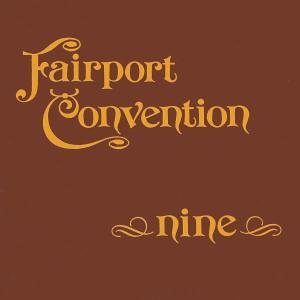 Island ILPS 9246 1973
Musicians
Dave Swarbrick
Vocals, Fiddle, Viola, Mandolin
Trevor Lucas
Vocals, Acoustic Guitar, 12-String Acoustic Guitar
Jerry Donahue
Electric & Acoustic Guitars
Dave Pegg
Bass Guitar, Mandolin, Backing Vocals
Dave Mattacks


Drums, Bass Guitar, Harmonium, Electric Piano, Clavinet, Tambourine, Tabor
Recorded:
December 1972 - February 1973 at Sound Techniques, London
Produced by:
Trevor Lucas, John Wood, Fairport Convention
Sound Engineer:
John Wood
Photography:
Brian Cooke Visualeyes
Sleeve Design:
Phillip Stirling-Wall & "Wendy" DM
The picture on the inside of the Gatefold sleeve of the vinyl version was taken outside "The Brasenose" Arms in Cropredy, Oxfordshire. The same image is on the back cover of Nine: the CD, as you can see to your right.
side 1.
The Hexhamshire Lass
(Trad. Arr. Fairport Convention)
Polly On The Shore
(Music - Dave Pegg :
Words Trad. Arr. Dave Swarbrick / Trevor Lucas)
The Brilliancy Medley (Eck Robinson) /
Cherokee Shuffle (Tommy Jackson)
(Music - Dave Swarbrick :
Lyrics from the works of
prison - The Gate House, Westminster 1642)
Tokyo (Jerry Donahue)
side 2.
Bring 'Em Down (Trevor Lucas)
Big William (Dave Swarbrick / Trevor Lucas)
Pleasure & Pain (Dave Swarbrick / Trevor Lucas)
Possibly Parsons Green
(Music - Trevor Lucas :
Lyrics - Trevor Lucas / Peter Roche)