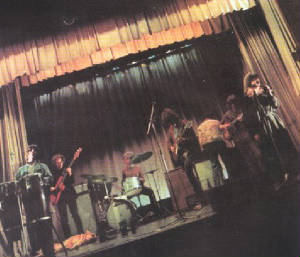 Fairport Convention
Island ILPS 9092 (LP, UK, January 1969)
recorded: June-October 1968 at Sound Techniques and Olympic Studio No. 1, London except Track 4 recorded at St. Peter's Church, Westbourne Grove, West London. Further work done at Morgan Studios.
produced by: Joe Boyd for Witchseason Productions
sound engineer: John Wood
front cover photograph: blackboard at Essex University
assaulted by Fairport Convention taken by Annie Brown
Guests:
Bruce Lacey and his robots (track 2)
Claire Lowther, cello (track 3)
Kingsley Abbott Coins (Track 4),
Backing Vocals (Track 11)
Paul Ghosh, Andrew Horvitch,
Marc Ellington Backing Vocals (Track 11)

Fotheringay
(Sandy Denny)
How often she has gazed from castle windows o'er,
And watched the daylight passing within her captive wall,
With no-one to heed her call.

The evening hour is fading within the dwindling sun,
And in a lonely moment those embers will be gone
And the last of all the young birds flown.

Her days of precious freedom, forfeited long before,
To live such fruitless years behind a guarded door,
But those days will last no more.

Tomorrow at this hour she will be far away,
Much farther than these islands,
Or the lonely Fotheringay
Mary Stuart, Queen of Scots, born at Linlithgow, 8 December, 1542, She was the only legitimate child of James V of Scotland. Mary was imprisoned for 21 years in the castle of Fotheringhay by Queen Elizabeth I for conspiring to overthrow Elizabeth and was executed there, in 1587.